About us
Ekam Palace Indian Restaurant will make you feel like a royalty with our authentic and truly delicious Indian cuisines. We are located at Shop w3 Banora Point Shopping Village Centre, Banora Point NSW and we are available for delivery and pickup. We have our Chicken Curries menu, which includes Chicken Rogan Josh, Chicken Korma, Chicken Vindaloo, Chicken Punjabi, Chicken with Spinach and Chicken Tikka Masala. For our Seafood specialties, you can order Prawn Korma, Prawn Masala, Prawn Vindaloo Spicy and Prawn Madrasi. Some of our other Indian specialties include Tandoori Chicken, Beef Rogan Josh, Beef Vindaloo, Lamb Rogan Josh, Lamb Punjabi and Lamb Masala. Click on our Order Online button if you want to avail of our delivery and pickup services.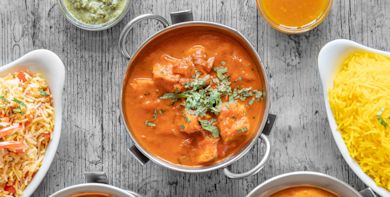 Reviews
George
"Always good! My favourite Indian restaurant. Great food, great family."
15/02/2020
Lesley
"Always amazing!!! There is no better Indian Food than these guys."
3/02/2020